About Richard Margolis
Richard Margolis moved to Rochester 50 years ago for the MFA program at RIT. He stayed because he never found any place he liked better. He taught for ten years, did commercial and architectural photography, was a founding member of Photo Archives Belong in Rochester (PABIR) that campaigned successfully to keep the Eastman House photographic collection in Rochester. He worked for ten years to save the Hojack Swing Bridge from demolition, but that effort failed. He helped revive the Arts & Cultural Council in the 1980s, organized the first meetings of the Neighborhood of the Arts, was a founding member of ARTWalk, helped organize 2nd Saturdays for Anderson Alley Artists, and was its coordinator for several years. He was a member and president of the Francis Parker School 23 PTA that his kids attended. He was project manager for several sculpture projects at School 23 and the Cat & Bird sculpture at the corner of Merriman Street and University Avenue, the first ARTWalk sculpture.
Margolis's studio is on the 4th floor of a former shoe factory, now the Anderson Arts Building. He claims to dislike digital photography, but Rochester Landmarks, Israel Public Art, 1000 Island Landmarks, and The Bridge Project web site & book are all primarily digital photography. He does work now with a 4 x 5 camera and makes big prints in a conventional darkroom on silver gelatin paper. He was born in June and is a Gemini and sometimes claims that that explains why his life and work is bifurcated.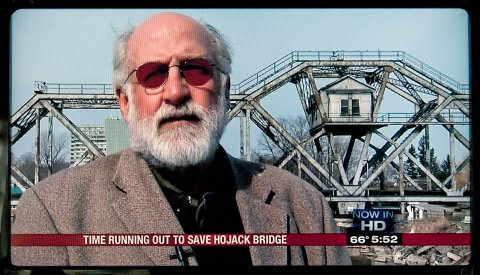 Over time Richard has been attracted to subjects that can be catalogued including public art, big trees, bridges, landmarks and Olmsted parks. His prints have grown from 16 x 20 inches to 24 x 30 inch prints, and most recently, diptychs and triptychs that are yet larger. His work is made in his studio darkroom, signed and produced in limited editions.
Richard believes in the print as an art object rather than as a "picture". He has recently revisited work made in 1981, called Actual Unretouched Photographs, to catalogue and exhibit it again. The collection is composed of layers of prints that were rephotographed. There are threads of this project in his recent work in which he rips the edges off of and "floats" the print in frames without a matte to hold them down. The diptychs and triptychs are yet another way to emphasize the paper and to break the standard rectangular frame. He has just begun rephotographing his prints in order to pursue the idea of layers and multiples further.
---
Richard is still excited to be working on new projects and intends to continue. His work has been in over 100 solo exhibitions, many more group shows, appears in countless publications and resides in over 500 private and public collections, including Bibliotheque Nationale, Paris, France; High Museum of Art, Atlanta, GA; International Museum of Photography/GEH, Rochester; Library of Congress, Washington; Museum of Modern Art, New York; Victoria & Albert Museum, London; and Yale University Art Gallery, New Haven.